June 11, 2019
Posted by:

Stacey Wisniewski

Category:

Marketing Strategy

Date:  June 3, 2019
Topic:  What is "The WIZ Method"?
WIZ Advisors just launched its proprietary service to drive brand awareness and high quality leads for B2B clients.  It is a proven three step process – and it REALLY works.
Here is a one-minute video about The WIZ Method:  "Meet Phil".
https://www.youtube.com/watch?v=zKFgxo2nBck
The WIZ Method – A Quick Overview
Why does Step 1 of The WIZ Method involve creating a research-driven, industry white paper?  As the slide below illustrates, buyers want to read a white paper when they are researching a B2B purchase.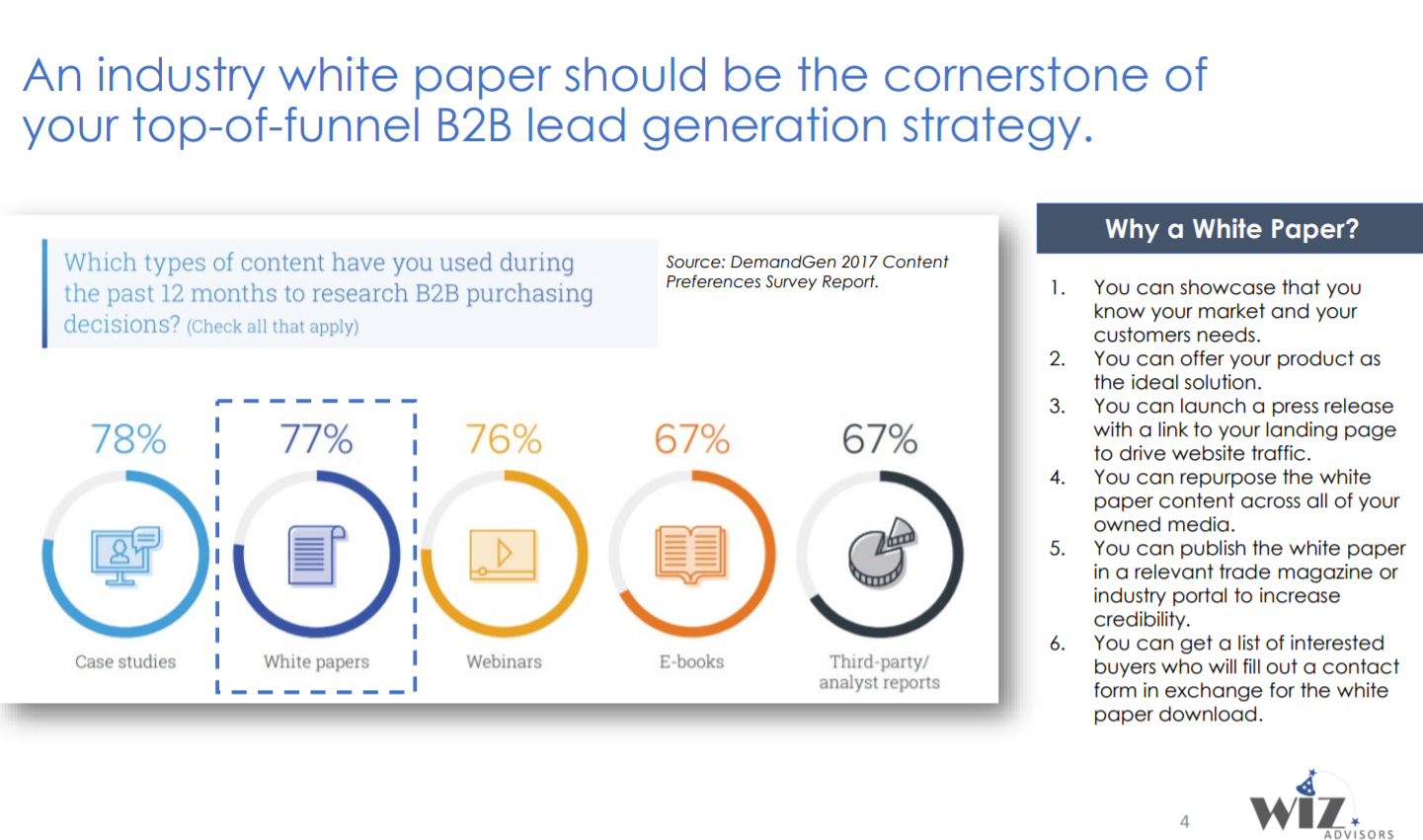 A white paper can also be spliced in a variety of ways – a blog, an article, a press release, social posts, infographics, emails, etc. – to form a content portfolio (Step 2).  The content can then be launched over a series of weeks in a coordinated cross-channel campaign to drive brand awareness and qualified leads (Step 3).
Download "The WIZ Method" Presentation to Learn More
Click below to read our "The WIZ Method" framework, which outlines in detail what the process involves, why it works, and the kind of results you can expect to see when implementing it.
View "The WIZ Method" framework here:
http://wizadvisors.com/wp-content/uploads/2019/06/The-WIZ-Method-Final-May-2019.pdf
Learn more about WIZ Advisors B2B Content Marketing Services here.
If you have any questions or would like to discuss how The WIZ Method can drive growth for your business, please contact me directly via email or mobile.
Stacey Wisniewski
WIZ Advisors LLC
Chief Marketing Strategist
Email: stacey@wizadvisors.com
Mobile: (615) 934-1817