"Content marketing is a commitment, not a campaign."
Did you know that B2B marketers worldwide consider content marketing THE MOST IMPORTANT DIGITAL MARKETING TECHNIQUE?  (Source: Statista, 2023)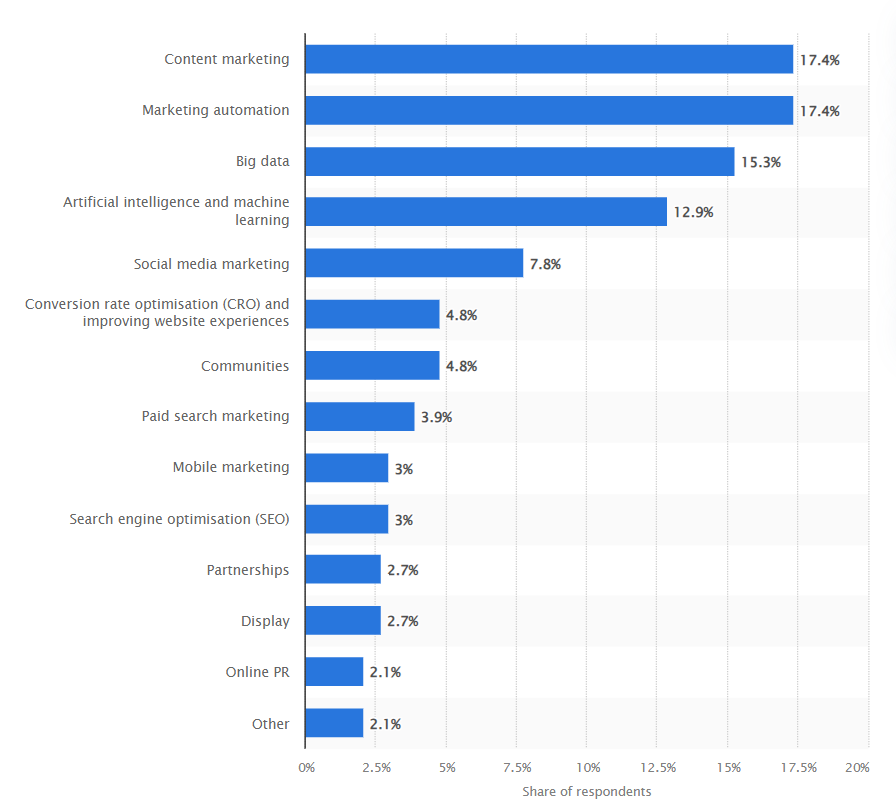 The reason for this is simple.  Content Marketing has become the #1 way for B2B businesses to drive brand awareness and lead generation on the Internet.  B2B content differs from B2C.  B2C content seeks primarily to inspire, entertain and sometimes shock the consumer into remembering the brand.  B2B content on the other hand, should be educational and informative.  It should help B2B buyers answer the questions:  What is it?  Do I need it? How does it work?  How will it help me?  And why should I buy it from you?
WIZ Advisors has always believed that high quality content drives high quality leads.  We are a team of strategists with incredible writing skills and brand experience that help B2B businesses position themselves as market leaders and industry experts.  We accomplish that through our proprietary process called "The WIZ Method".
The WIZ Method
The WIZ Method is our three-step process to drive brand awareness and high quality leads for B2B businesses.
We write a thought provoking, research-driven white paper or ebook.  We educate the target B2B buyer on the market – size, growth, trends, key players – and position our client as the ideal solution.  Why a white paper?  Because 77% of B2B customers in a recent DemandGen Survey responded that they read a white paper or long-form article before making a purchase.  A white paper is the best way for a buyer to get to know an industry without having to shell out thousands of dollars for an analyst report.
We develop a comprehensive content portfolio using the messaging from the white paper or ebook.  The portfolio – which we customize for each client – includes:  buyer persona(s), press release, blog, article, social posts, infographic, email, landing page, etc.
We launch the white paper or ebook and supporting content in a coordinated cross-channel brand awareness campaign.  Each piece of content contains a link to the landing page for target buyers to download the white paper in exchange for their contact information.  This process not only drives traffic to your website, but it also improves your organic SEO.  These prospects are then vetted, added to your email list, and distributed to your sales team for follow up.
Content Marketing Services
White Papers / eBooks
Articles
Press Releases
Social Media posts
Landing Pages
Emails – Creation, Distribution, Optimization
Blogs
Videos
Webinars
Podcasts
Offline Awareness and Lead Gen Services
Direct Mail
Trade Show or Conference Planning & Execution
Speaking Engagements
Interviews
Analyst Coverage