"Strategy is about setting yourself apart from the competition. It's not a matter of being better at what you do – it's a matter of being different at what you do."
Strategy and Analysis is at the core of everything we do at WIZ Advisors.  We begin every client engagement by setting objectives and metrics to ensure alignment, focus and success. We have over 20 years of experience creating and executing marketing strategies, whether for an entire business, a market segment, a specific product or service, a channel, or a campaign.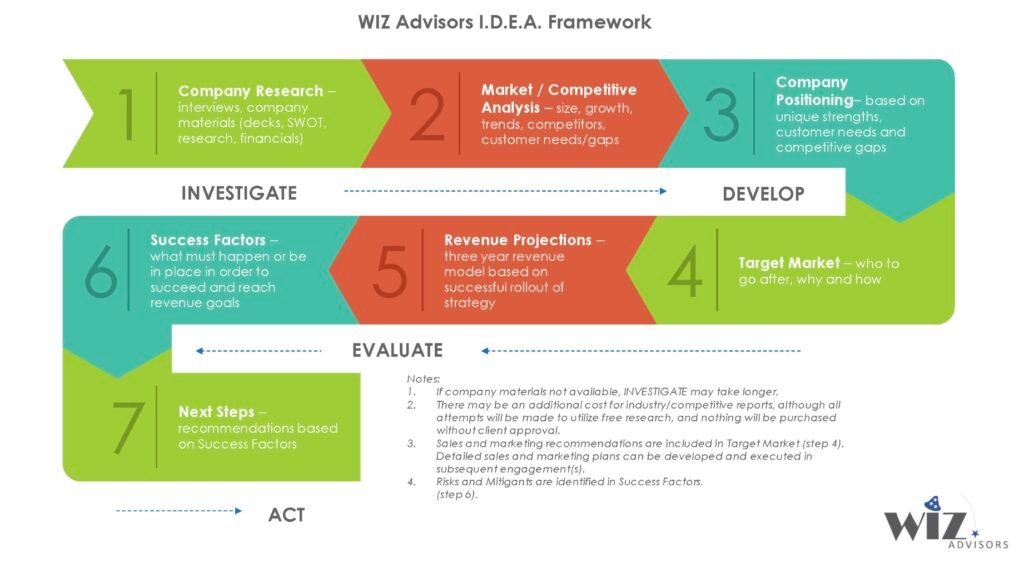 Our I.D.E.A. Strategy Framework
WIZ Advisors uses a proprietary framework for developing marketing strategies, called our I.D.E.A. Framework.  First we INVESTIGATE.  We do comprehensive industry, competitive, and company analysis to ensure we understand the industry trends, competitive offerings and current client positioning.  Second, we DEVELOP.  We marry the client's core strengths with the gaps in the market to develop the value proposition which becomes the foundation of all messaging and branding.  We identify the ideal target buyers ("buyer personas") who want what the client is selling and are willing to pay for it.  Then, we build the marketing strategy to attract and convert those buyers – and drive revenues.  Third, we EVALUATE.  In this step, we create a three-year proforma model to highlight the potential revenue that our strategy could deliver.  We include risks to the plan and success factors that are crucial in order to reach the desired revenue goals.  Finally, we ACT.   We outline next steps to turn the recommended strategy into action, and we execute.
Our Strategy Services
Industry Research
Competitive Analysis
SWOT Analysis
Value Proposition Definition
Customer Research
Messaging / Branding
Buyer Persona Development
Marketing Strategy
Sales Strategy
Product Strategy
Channel Strategy
Revenue Proforma
Success Factors
Risks/Mitigants