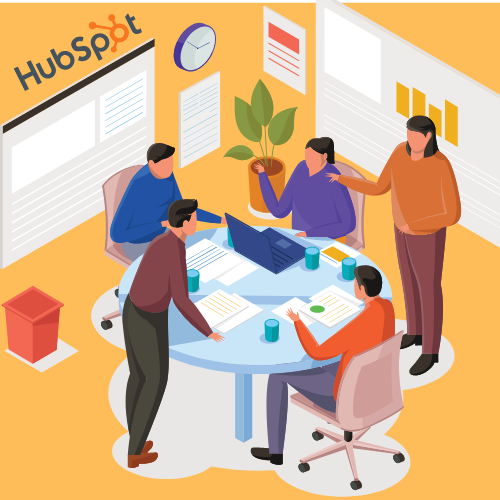 Introduction
Recently, I was having coffee with a good friend and fellow Marketing Agency owner and we started chatting about how much Marketing has changed over the years. Then I asked her this question: "What is one aspect of our role as marketers that you think will never change?"
Her answer: "We will always be responsible for creating and executing campaigns that generate leads and drive revenue."
Then I asked this follow up question: "With so many different marketing tools and platforms available, which ones are worth investing in?"
Her Answer: "HubSpot – for sure. It is the foundation I recommend for all my clients."
I nodded my head.
I couldn't agree more.
HubSpot – in case you are unfamiliar – is an all-in-one platform that offers a complete range of marketing, sales, and customer service tools to help businesses deliver a seamless experience to their customers no matter where they are in their purchase lifecycle.
In this blog post, we'll focus on Marketing Hub – one of HubSpot's five "Hubs" or platforms. The others are Sales Hub, Service Hub, and Operations Hub & CMS Hub each of which can be purchased individually or as an integrated solution.
Here are 10 aspects of HubSpot Marketing Hub that when utilized together maximize its value to your business.
Hubspot Marketing Hub – Ten Powerful Components of its Functionality
Email marketing: HubSpot allows you to create and send targeted email campaigns to your contacts, segmenting lists based on criteria such as location, behaviour, and interests. This ensures that your messaging is tailored to your audience, leading to higher engagement and conversions.
Landing pages: HubSpot's easy-to-use landing page builder lets you create and customize landing pages for specific campaigns, with built-in A/B testing to optimize conversions. This is an essential tool for any marketer looking to drive conversions and track their results.
Lead capture forms: HubSpot's forms can be embedded on your website and landing pages, making it easy to capture leads and automatically add them to your CRM. This means that you can quickly follow up with potential customers and start nurturing them towards a sale.
Social media marketing: HubSpot's social media tools let you schedule and publish posts across multiple platforms, track engagement, and measure performance. This allows you to streamline your social media efforts and see what's working and what's not.
Blogging: HubSpot's blogging platform lets you create and publish blog posts, track engagement, and optimize for SEO. Blogging is a crucial component of any content marketing strategy, and HubSpot makes it easy to get started.
Website analytics: HubSpot's website analytics tools help you track website traffic, behaviour, and conversions, providing insights into how your website is performing. This data is crucial for understanding your audience and optimizing your website to drive more leads and sales.
SEO: HubSpot's SEO tools provide suggestions for optimizing your website and content for search engines, helping you improve your website's visibility and traffic. With HubSpot, you don't need to be an SEO expert to start ranking higher in search results.
Marketing automation: HubSpot's workflows allow you to automate repetitive tasks, such as sending follow-up emails, assigning tasks to team members, and updating contact properties. This saves you time and allows you to focus on more strategic tasks.
Lead scoring: HubSpot's lead scoring feature lets you assign values to leads based on their behaviour and engagement, allowing you to prioritize follow-up and sales efforts. This means that you can focus your efforts on the leads that are most likely to convert, increasing your chances of success.
Reporting: HubSpot's reporting tools provide real-time insights into your marketing performance, allowing you to track progress and make data-driven decisions. This is crucial for understanding the ROI of your marketing efforts and adjusting to improve your results.
Conclusion
HubSpot offers a powerful suite of marketing tools that can help you streamline your campaigns, generate more leads, and drive revenue for your business – one aspect of a marketer's role that will never change and has never been more relevant.
Ready to take your marketing efforts to the next level?
Set up an introductory call with Stacey Wisniewski, our Founder & Chief Marketing Strategist to learn more or schedule a demo.