Who We Are
WIZ Advisors is a woman-owned and operated marketing agency. We provide a full suite of services for B2B companies seeking to build their brand identities, drive awareness, increase leads, expand their offerings, and accelerate revenue. 
WIZ Advisors has over 20 years of experience delivering strategic marketing solutions to clients from start-ups to global B2B institutions.
From our Founder & Chief Marketing Strategist
How are we different
WIZ Advisors has built a successful brand based on our four pillar model.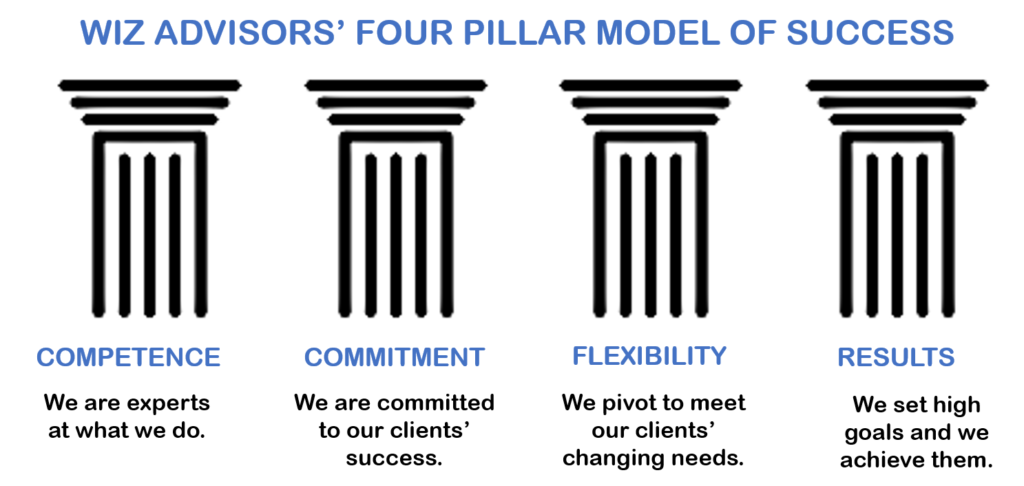 Our Approach
WIZ employs a customer-centric approach, beginning each engagement with a research-driven assessment to uncover and/or validate: 
key trends shaping the industry, 

the primary competition, the client's strengths and weaknesses, and 

how the client is positioned in the market vs its competition. 
Through that lens, WIZ is better able to deliver innovative marketing solutions tailored to each client's unique goals and challenges. As outlined in our four pillar model, WIZ Advisors brings a depth of experience to each engagement and an unwavering commitment to our client's success – evident in our results.
Our clients trust us – and it's their referrals and repeat business which has made WIZ Advisors the successful agency that it is today.