January 26, 2019
Posted by:

Stacey Wisniewski

Category:

Marketing Strategy
WIZ Advisors Marketing Strategy Monthly – January 2019 – Content Marketing
Welcome to WIZ Advisors' 2019 Marketing Strategy Monthly!  We wanted to reach out on a regular basis, interact with our network (YOU), and share our perspective on a relevant marketing topic once a month.  And thus, WIZ Advisors' Marketing Strategy Monthly was born.
Along with monthly insights on a relevant topic, we would like to share a tool, framework, case study – something of value that we've created and found useful on that topic – and something we hope will help you succeed in your marketing efforts.
Why Content Marketing?
"Content marketing is a commitment, not a campaign." -Jon Buscall, CEO, Moondog Marketing
Did you know that content marketing was voted the single most important marketing activity to drive commercial success in 2018 (based on sample of 117 respondents from for-profit organizations, 66% B2B, 9% B2C and 25% both B2B and B2C)?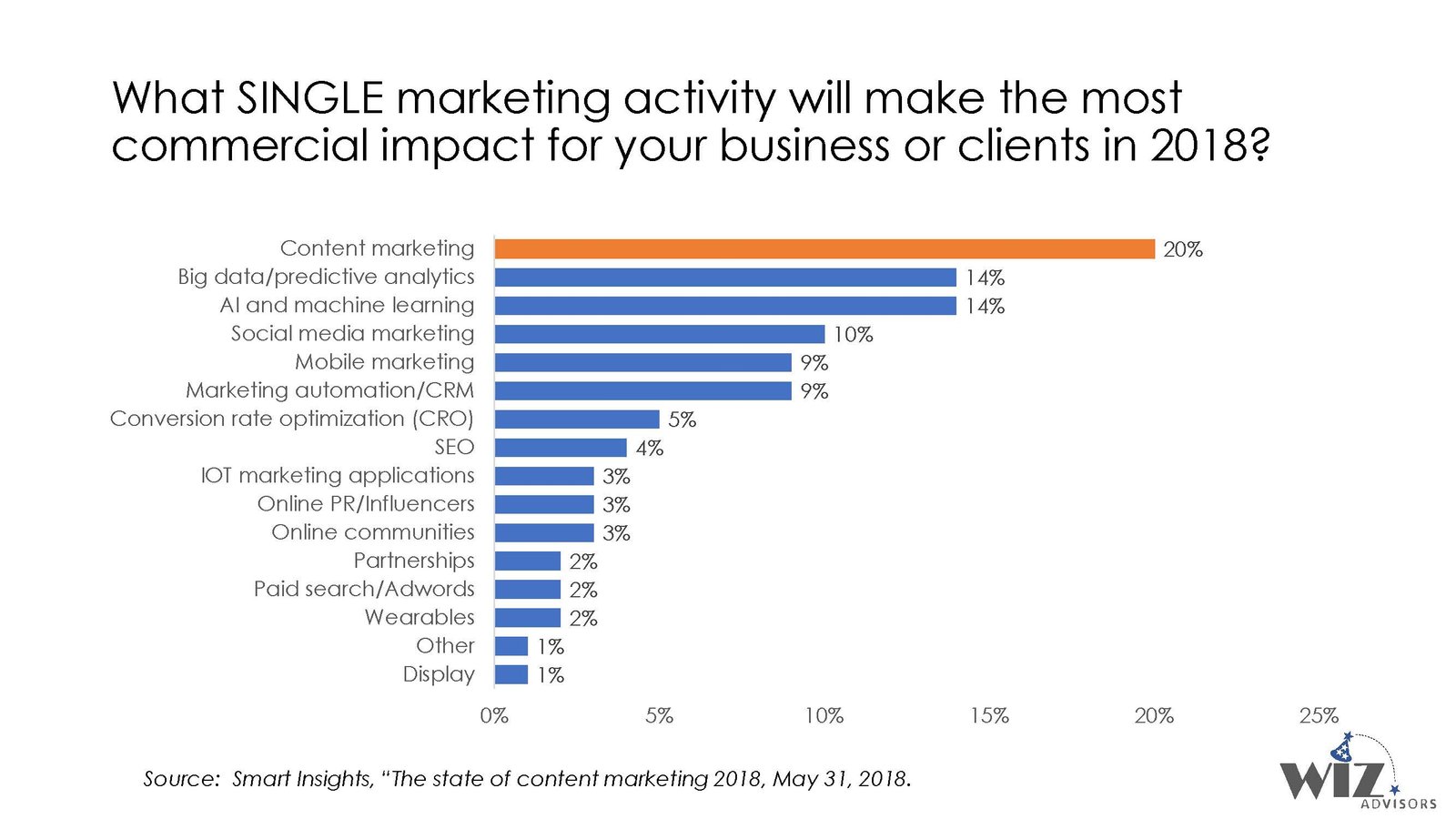 Content marketing was the biggest theme for WIZ Advisors' clients in 2018 as well.  We were asked to develop strategies, create and promote high impact content, and deliver measurable results in the way of:  increased brand awareness, more qualified lead generation, increased website traffic, and relevant PR placements.
Our Content Marketing Process
How did we do it? The answer:  a sound content marketing strategy that begins with a thorough understanding of each client's target audience.  There are five steps we go through with every content marketing engagement:
Perform content audit – inventory and analyze current content, determine goals and metrics for engagement
Develop buyer personas – develop persona(s) for the ideal target audience for your content; use these personas to create content that matters to your audience's specific pain points
Create content – types of content (different content for each state of buyers' journey), themes, channels, call to action, delivery dates and metrics
Distribute content – across earned, owned and paid media
Measure and optimize – determine the right metrics to meet client goals, tools for measurement, dashboard – and optimize, optimize, optimize
Do you have a clear content management strategy for 2019?  Would you like some help getting started?
Download Your Copy of our Content Marketing Strategy Framework
https://mailchi.mp/b1ac312c5521/wizcontentmarketing
If you have any questions while reviewing the deck or would like to set up time to discuss your own content marketing challenges and needs, please contact me directly via email or mobile.
Until next month.
Best,

Stacey Wisniewski
Chief Marketing Strategist, WIZ Advisors
Email: stacey@wizadvisors.com
Mobile: (615) 934-1817