WIZ Advisors' Marketing Strategy Monthly
Date:  June 3, 2019
Topic:  The WIZ Method
We are so excited to announce that WIZ Advisors has launched its proprietary service to drive brand awareness and high quality leads for B2B clients.  It is a proven three step process – and it REALLY works.
Here is a one-minute video about The WIZ Method:  "Meet Phil".
https://www.youtube.com/watch?v=zKFgxo2nBck
The WIZ Method – A Quick Overview
Why does Step 1 of The WIZ Method involve creating a research-driven, industry white paper?  As the slide below illustrates, buyers want to read a white paper when they are researching a B2B purchase.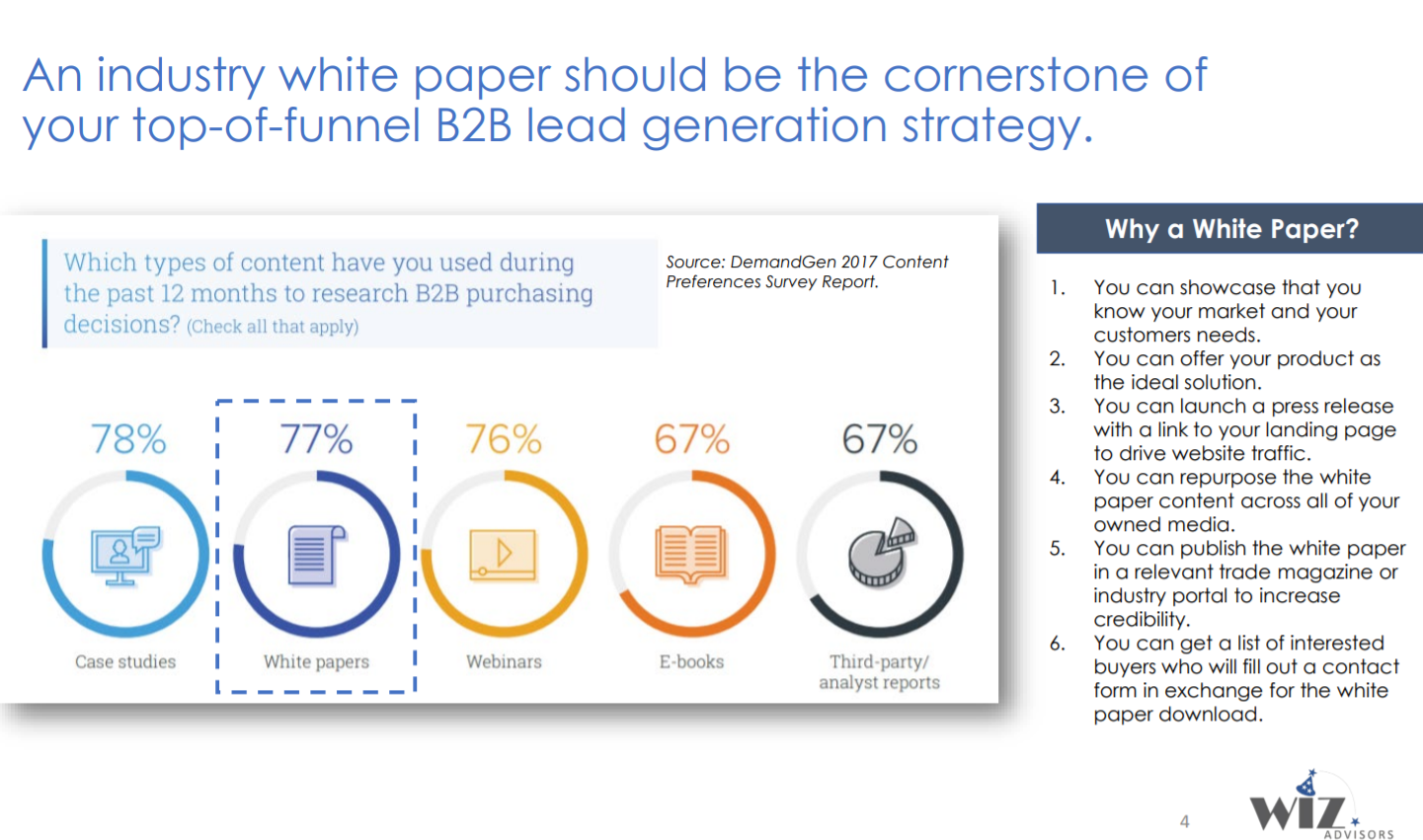 A white paper can also be spliced in a variety of ways – a blog, an article, a press release, social posts, infographics, emails, etc. – to form a content portfolio (Step 2).  The content can then be launched over a series of weeks in a coordinated cross-channel campaign to drive brand awareness and qualified leads (Step 3).
Download "The WIZ Method" Presentation to Learn More
Click below to download our "The WIZ Method" deck, which outlines in detail what the process involves, why it works, and the kind of results you can expect to see when implementing it.
Download Your Copy of "The WIZ Method" Deck here:
https://wizadvisors.com/wp-content/uploads/2019/06/The-WIZ-Method-Final-May-2019.pdf
If you have any questions or would like to discuss how The WIZ Method can drive growth for your business, please contact me directly via email or mobile.
Until next month.
Best,
Stacey Wisniewski
WIZ Advisors LLC
Chief Marketing Strategist
Email: stacey@wizadvisors.com
Mobile: (615) 934-1817

WIZ Advisors' Marketing Strategy Monthly
Date:  April 26, 2019
Topic:  Video Marketing
Did you know that video will represent over 80% of Internet traffic by 2022? Or that video drives a 158% increase in organic traffic to your website? Or that social video generates 1,200% more shares than text and images combined?
Consumers prefer it too. 91% of consumers have watched an "explainer video" (video that explains who a company is or what a product can do for you) in the past year. 64% of Internet users are more likely to buy a product or service after watching a video. And, 68% of prospects prefer to learn about a product or service through video.
So what are you waiting for? Video is not just a "nice to have" anymore, it is a MUST. If you aren't posting videos or running video ads for your business, you are missing the mark.
Click the link below to download WIZ Advisors' framework on B2B Video Marketing – what it is, why it's important, three types of video content ("Triple H Video Strategy"), and how/where to promote them.
https://wizadvisors.com/wp-content/uploads/2019/04/Video-Marketing-is-Essential-for-B2B-Companies-April-2019.pdf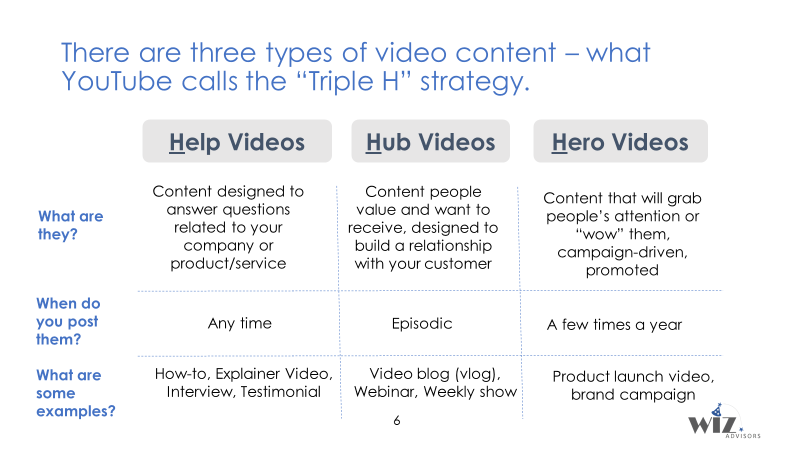 As a SPECIAL BONUS, below is a video I published on WIZ Advisors' YouTube channel about Video Marketing. It is entitled "What I Learned about Video Marketing from my 10-year Old" – it's a summary of my interview with my 10 year-old about her thoughts on advertising, and I think you'll love it.
https://www.youtube.com/channel/UC8GJWTYE_IXUA9FDSWfgVWA) about Video Marketing.
As a marketing strategist, I am always looking at the latest research on Millennials and Generation Z. My 10-year old represents the generation that follows, a generation that has grown up with YouTube and Netflix over live TV, cord cutting over landlines, and Uber over taxis (she's never even been in a taxi!). I always learn something new when I talk to her. I hope you do too.
Subscribe to WIZ's YouTube channel to get all of our videos going forward!  https://www.youtube.com/channel/UC8GJWTYE_IXUA9FDSWfgVWA
Until next month.
Best,
Stacey Wisniewski
WIZ Advisors
Chief Marketing Strategist
Email: stacey@wizadvisors.com
Mobile: (615) 934-1817