September 29, 2020
Posted by:

Stacey Wisniewski

Category:

Marketing Strategy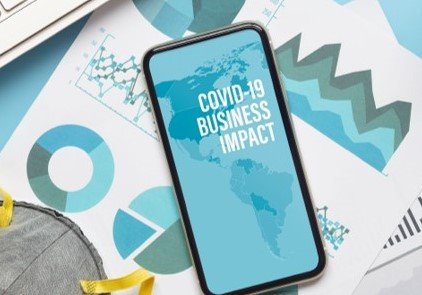 The World Has Changed
It is 2020 and our entire world has changed.  Americans have been living in lockdown, only leaving their homes for groceries, fresh air or exercise – and only then with masks and mandatory social distancing.
Not unexpectedly, the U.S. economy (real GDP) plummeted nearly 33% in the second quarter of 2020, following a 5% decline in the first quarter.  Unemployment hit an all-time high of 14.7% in April – recovering to 10.2% by July (but still 3X the average pre-COVID) – and consumer sentiment hit an all-time low.  Businesses have been forced to rethink their workforce strategies, business models and cash flow projections to survive.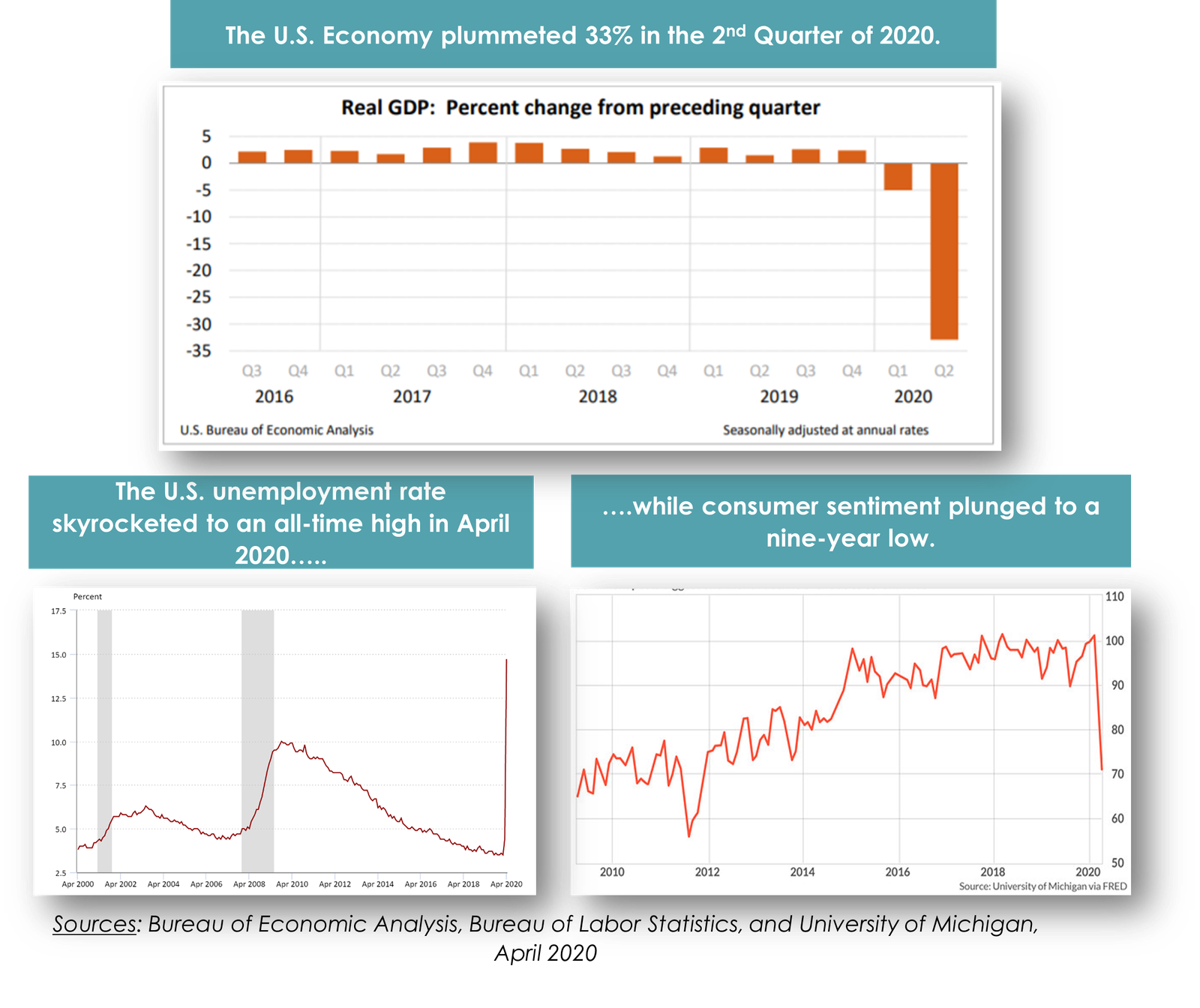 How COVID Has Impacted Marketing – Permanently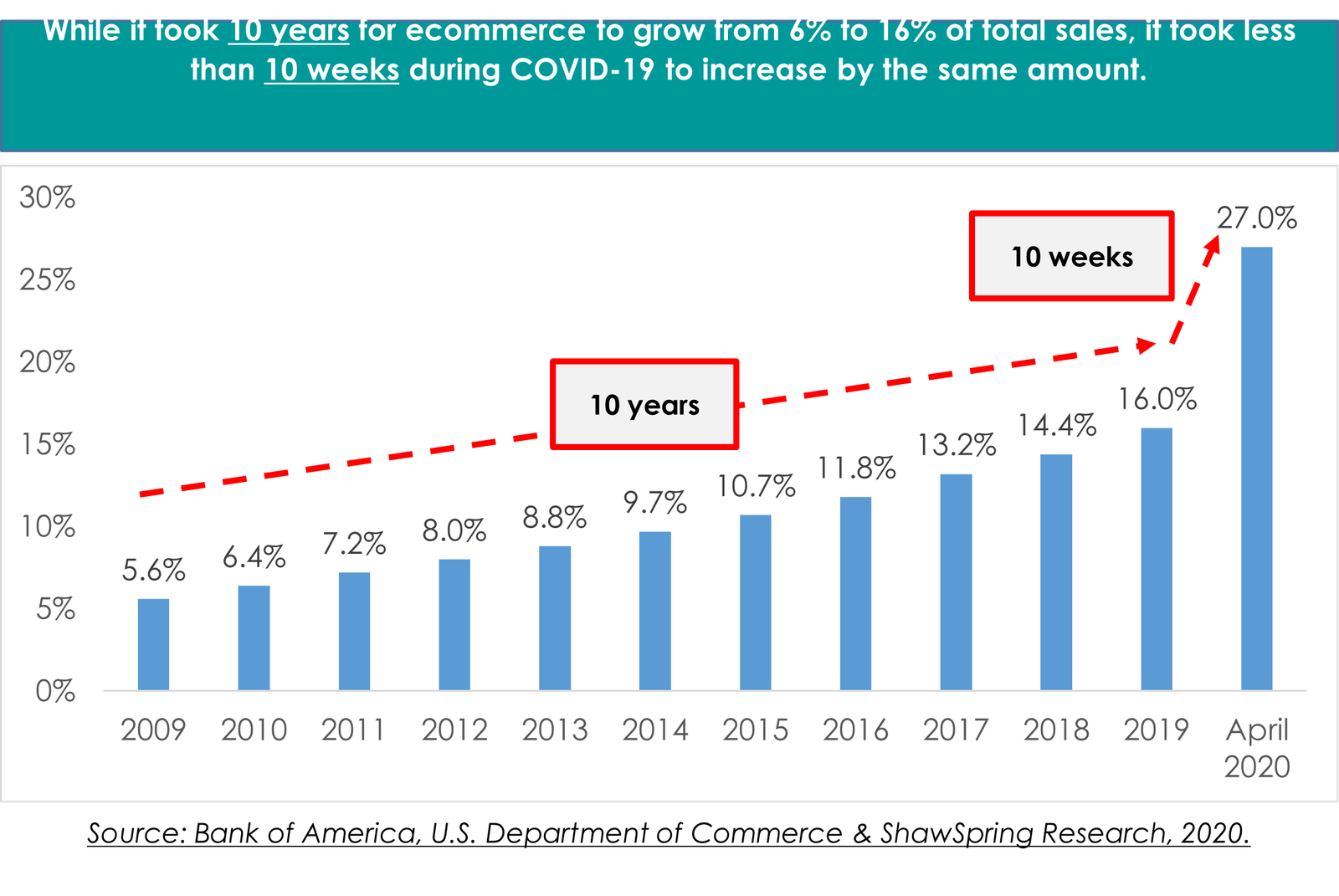 The above chart was taken from Bank America and the U.S. Department of Commerce's recent data showing that U.S. ecommerce now accounts for over 27% of total retail sales.  While this chart depicts  retail sales, every industry across the board has been forced to move to a digital sales and marketing model.  Every B2B marketer and salesperson is using online meeting applications like Zoom and Microsoft Teams – many for the first time – to meet with prospects and close deals.  CRM systems like Hubspot and Salesforce.com are being utilized to their full extent.  If organizations do not have them, they are implementing them so deal pipelines can be managed and shared across stakeholders.  As most Americans were forced to work from home, businesses that had digital sales and marketing infrastructures in place had a leg up on their competition.  With a complete halt on in-person sales meetings and marketing events, the entire B2B buyer's journey moved to the Internet – QUICKLY!
In the same vein, every marketer was forced to rethink his/her strategies and budgets.  Trade shows and conferences that typically make up 25% of total marketing budgets have been cancelled.  Dollars are either being cut or repurposed into the highest ROI digital marketing tactics.  As the below chart from eMarketer illustrates, B2B marketers put their efforts into content creation, webinars (both hosted and sponsored), paid search ads, email and social.
Why the Webinar Craze?
Even before the COVID pandemic, 75% of B2B marketers and sales leaders believed that webinars were a great way to generate high quality leads (Source: GoToWebinar's 2017 Book of Stats).   But during COVID, webinars took on a life all their own.
Because everyone was at home and online, most people did not have professional equipment at their disposal.  So, webinar hosts, guests and participants had to deal with issues, such as: technology and wireless servers going down, dogs barking, kids crying, ambulances driving by, and jackhammering and lawnmowers interrupting the events.  But, shockingly, it made the events BETTER.  It added a sense of "realness" that had not been there before.  It provided businesses a way to build shared connections with their audiences.  
What we witnessed was a perfect storm.  Businesses could promote their thought leadership and gain valuable leads.  Participants could learn. And both sides could form connections.  Webinars helped people realize that – whether we are B2B executives, interviewers or one of many listeners in the audience, we are all human beings, facing the same challenges at the same time – and we are all in this together. 
B2B companies quickly realized that webinars were a great alternative to in-person events.  ON24, saw webinars on its platform jump by 330% year-over-year in March with average participation of 300 and total registrations twice that.  Besides the human connection – which is by far the biggest home run because IT BUILDS TRUST- webinars provide three key benefits for B2B companies:
They allow brands to showcase their knowledge and expertise which drives credibility
They generate high quality leads who are interested in what you have to offer.
They provide on-demand content you can promote on your company's website for ongoing lead generation.
And the results support it.  Below is a graph of a WIZ Advisors' client.  We employed a webinar strategy – three webinars with three industry-leading online communities in 45 days.  Our goal was to drive high quality leads.  We promoted the webinars via email and LinkedIn and increased Google Ad spend during that period (all tactics that the eMarketer chart highlighted!).  Not only did the client's web traffic spike (see below), but we generated a significant pipeline of quality leads – many of whom had been on the fence prior to those events.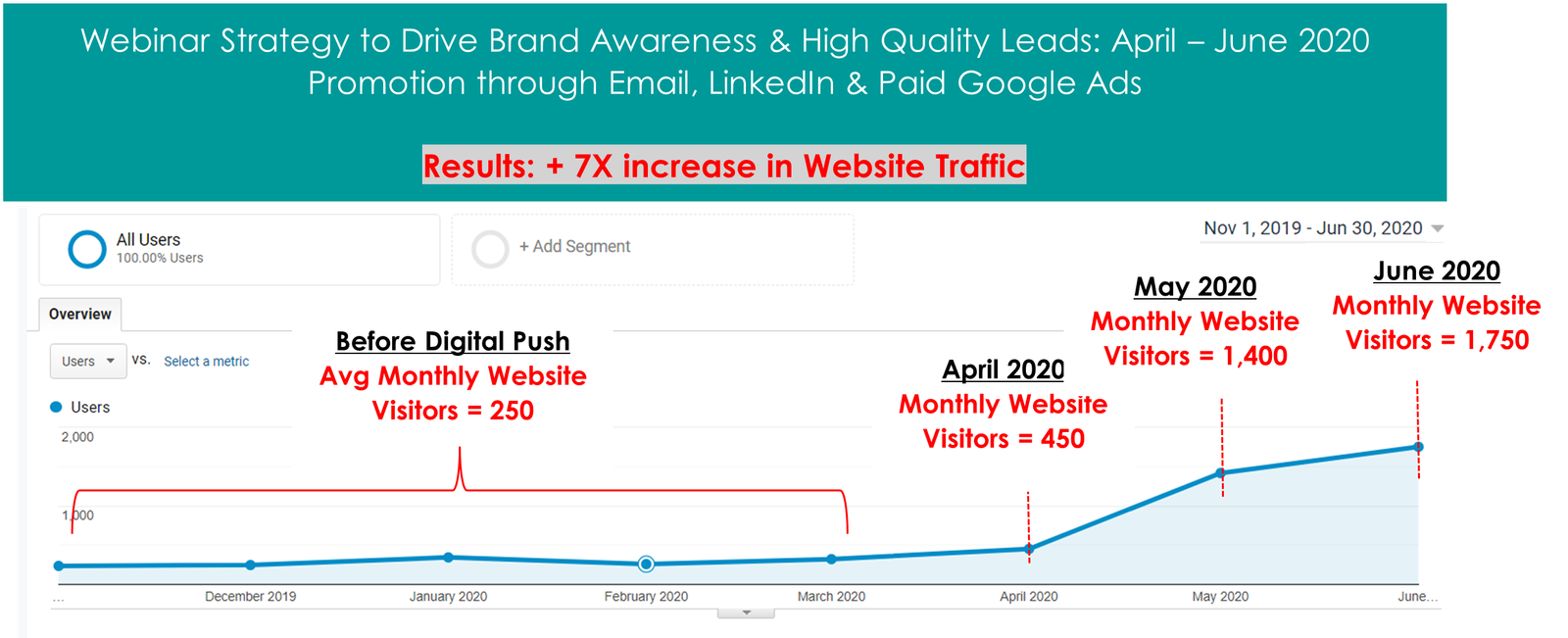 Conclusion
How have your marketing budgets, strategies and tactics changed because of COVID?  What are the trends that you have seen?   We'd love to hear about it.  Leave a reply below or reach out to us on LinkedIn or Facebook.  We look forward to hearing from you.