December 1, 2019
Posted by:

Stacey Wisniewski

Category:

Marketing Strategy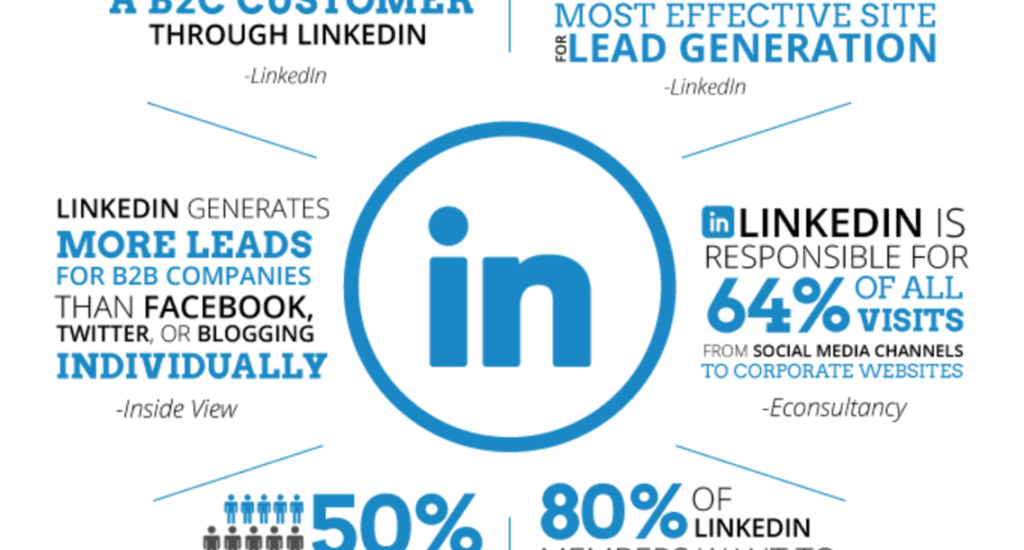 Why LinkedIn is Essential for B2B Lead Generation – November 2019
Introduction: Why LinkedIn for Lead Generation?
With over 600 million users, LinkedIn has become the ideal place for social selling. It has the right mix of professional and personal that allows businesses to sell to potential clients in a channel where they will be most receptive. That is why reaching out to people on LinkedIn is much more effective: response rate (inbox messages, connection requests, content engagement) is an impressive 30-40%. Social selling is the future of sales.
If you're a B2B marketer, your customers are undoubtedly doing research online before they buy.  In fact, the average decision maker reads 10 pieces of content before finalizing their purchase decision. Great content on LinkedIn can lead B2B decision makers back to your site as well. On average, 46% percent of social media traffic coming to B2B company sites is from LinkedIn. With LinkedIn's advanced audience targeting capabilities, you can ensure that increased traffic is qualified, meaning it contains those most likely to convert into leads. Fully 93% of B2B Marketers consider LinkedIn the most effective site for generating leads.
Some additional reasons why LinkedIn is ideal for B2B lead generation:
LinkedIn adds 2 new members every second — so you are likely to find the right person, or people, you are looking for.
There are 2 billion member updates per week — which makes it easy to find what potential targets are talking about, interested in, and sharing.
You can stay in touch with your network of potential leads at scale through your own content and content you engage with, e.g. commenting on posts.
LinkedIn users are using the platform to network, so outreach naturally becomes warmer versus sending out a cold email that you didn't have permission to solicit.
LinkedIn is a platform that enables you to forge meaningful relationships by revealing connection paths between your company and your target account that you can leverage for a warm introduction.
And finally, LinkedIn allows you to build a network of potential customers, followers, brand enthusiasts, etc. that will engage with your content and help you establish and scale your brand.
5 Tips to Get Started
If you are not already using LinkedIn for lead generation (shame on you), here are five quick and easy tips to get started:
Define Your Niche– Determining your target buyer(s) is probably the single most important prerequisite.  This step is not directly related to your LinkedIn account, but is essential to drive high quality prospects.
Optimize Your Profile – Before connecting on LinkedIn, make sure you have a strong and clear profile. This is your online business card and the first thing people see when they find you.
Post Weekly (Daily if Possible) Status Updates –You should aim to publish at least once a week on LinkedIn to keep your name synonymous with industry expertise and news.
Get Recommendations – Ask coworkers or happy clients to write a recommendation that appears in your profile.  This validates your ability to solve industry pain points.
Leverage Your Marketing Team – Your company's marketing department should be generating new content and collateral to help you earn trust with leads and close deals. Check in with marketing frequently to see what new content or campaigns they have on their calendars, and how you can frame it on LinkedIn to drive sales conversations.
9 Steps to Generate High Quality Leads
Once your profile has been optimized, you are ready to find your ideal customer.
Build Your Search Query – Your search query starts with your buyer personas. A buyer persona is "a semi-fictional representation of your ideal buyer, which typically includes customer demographics, behavior patterns, motivations, and goals." If you have a buyers persona, use your ideal buyer's attributes to define your search criteria.  If you don't have one – or access to one – just think through these three elements:  industry, company size and job role.  From search results in Sales Navigator or LinkedIn's general search, open only profiles that match your segmentation criteria. (The next section "6 Sales Navigator Best Practices" will walk you through that tool.)
Request a Connection – Once you've created your search query and built a list of prospects, it's time to connect. This is probably the most demotivating part, as you'll need to make 100 connection requests per day if you want to drive results. (Note:  If you are utilizing Account-Based Marketing techniques, quality not quantity is important.  Determine the right decision makers at your target accounts and utilize LinkedIn requests to reach them.)  Some of them may ignore the request and the ones who do connect may never engage in a conversation.  But over time, this process yields results (see #8).  The connect request should be accompanied with a message that, listen carefully, does not sell ANYTHING. "People like to buy, but they don't like to be sold to".  This introductory message will start your "drip sequence", and should say something like:
"Hi [first name], I came across your profile and I decided to reach out because… [share something you have in common or how you liked something they posted].  – Your Name, Your Company, Your Tagline."
IIMPORTANT:  Why put your company's tagline at the end of your messages? You want people to associate you and your company with what you can do for them.
Say Thank You – Once someone has accepted your request, send them a "thank you for connecting" message. Don't forget to add your tagline at the end – and again, don't sell anything.
Send something useful –If you haven't received a response from your prospects; provide them with something of value. Take a look at the prospect's profile and look for an interesting article you think they might find useful. The more you engage in a casual, human way, the more they will trust you.  No one will respond to you if you try to sell them your product or service right away.  Don't forget to end it with your name, company and tagline.
Ask for a call –In the last step of the drip sequence, message your potential prospect and ask them to jump on a call.  Explain why you want the call.  Stay casual and friendly and emphasize the benefits of a quick chat.  Again, don't forget to put your tagline after your name.
View profiles – This is a great tactic that doesn't involve sending your prospects anything.  If you've been on the platform for any length of time, you know that LinkedIn sends notifications every time someone views your profile.  One of your prospects might be curious and click your profile from the alert they receive, and if they need a product or service like yours at that particular moment, they might contact you.  We've seen it happen– a lot!
Post Content – This step is crucial. Why?  There are 9 billion content impressions in the LinkedIn feed every week.  And, out of 250 million monthly active users on LinkedIn, only 3 million share content weekly.  That means 3 million users are getting 9 billion impressions every week – or 3,000 impressions per post.  Think about that for a millisecond – and get posting!
Keep engaging –Don't sell – just talk to prospects, build a relationship, and see how you can help each other. This is a slow process and might not bring any quick leads but you're in this for the long run.  Even if your prospects don't need your services right away, they are going to think about you in the future. Or they might recommend you to someone in their network.
Don't Use Automation Tools– This is HUGE.  Your account can get permanently blocked if LinkedIn detects non-human activity from your account.  Sure – automation tools save you a lot of time but they can also derail your entire effort.  If you don't have the time to build a LinkedIn pipeline (which is understandable), hire a contractor or outside firm to help (like WIZ Advisors – shameless plug).
6 Sales Navigator Best Practices
LinkedIn is a treasure trove of detailed knowledge on potential buyers – and Sales Navigator makes that knowledge actionable with automated tools.
Here are six best practices we've collected from utilizing the platform to generate leads for our B2B clients.
Use Premium Search Filters to build a target prospect list based on personal or organizational parameters. You can sort by a number of factors — including geography, sector and company size — and scope the size of each opportunity by filtering by company revenue.  Look for names on accounts where you have a 1st or 2nd-degree connection for a warm introduction opportunity.
Load the list into Lead Builder and filter further by titles to identify the right decision-makers. Use the In Common panel in their Profile to determine what you may have in common with that LinkedIn member. You can also learn more about the prospect by checking out these sections: Following, Groups and Volunteer Experience & Causes.  "Endorsements" in the Skills & Expertise section provides an understanding of what each prospect does well. Use this information in your introductions.
Use Lead Recommendations to receive leads based on presets and saved searches. It will allow you to:  see similar decision-makers and influencers at other companies, have new leads automatically flow into your email, look at the recommended decision-makers and influencers within your target accounts that Navigator sends, and identify new leads.  Open the lead's profile by clicking on his/her name, or save the lead in Contacts for follow-up later.
Save your TeamLink Searches to keep you updated on your targeted leads' professional lives. Set up a notification to know when your prospects move to other companies, and follow the same steps as above to start a conversation.
Use Sales Navigator's Out-of-Network Profile Unlocks to help you uncover hidden leads. Profile Unlocks provides access to all LinkedIn member profiles — even those outside of your network. Users can unlock profiles from search results to gain visibility into sales prospects beyond third- degree connections.
Sync Sales Navigator with Your CRM to keep track of your conversations with all prospects. This will save you from jumping back and forth between two different sites, and provide powerful insights in your reporting.
Learn more about WIZ Advisors B2B Content Marketing Services here.
I hope this LinkedIn article has given you some valuable information to start using the platform for your own lead generation.  If you have any questions about LinkedIn or would like to learn more about our LinkedIn Lead Generation Services, feel free to reach out to me directly: Stacey Wisniewski, Founder and Chief Marketing Strategist of WIZ Advisors, at (615) 934-1817 or stacey@wizadvisors.com.