January 20, 2021
Posted by:

Stacey Wisniewski

Category:

Marketing Strategy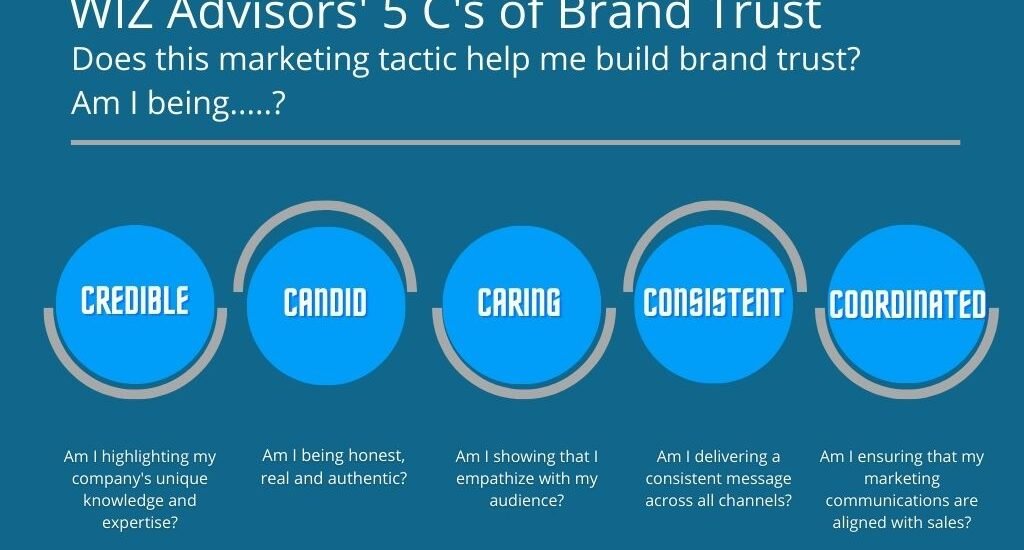 Introducing WIZ Advisors 5 C's of Brand Trust

Introduction
In our previous blog on "Brand Trust", we established why brand trust is so important in today's digital world, let's discuss how to build it.  At WIZ Advisors, we have learned that building brand trust comes down to exhibiting five specific characteristics.  We call them the "5 C's of Brand Trust".  Back in September 2017, LinkedIn published their own 5 C's of Brand Trust: Content, Communicate, Community, Constant, Context.  Their goal was to illustrate how their platform can help brands build trust.
Our 5 C's are different.  WIZ Advisors' 5 C's of Brand Trust are a checklist for you and your teams to use EVERY TIME you deliver a sales or marketing message.  With every post, upload, launch or email, the 5 C's ensure that you are building brand trust with your buyers, an essential prerequisite for success in this "new world".
Click here to print the WIZ Advisors' 5 C's graphic.
Credible
Am I highlighting my company's unique knowledge and expertise?
This is where it all starts.  In every stage of the buyer's journey, you need to highlight your company's differentiation.  Why should your audience engage, purchase, remain loyal to or advocate for your brand?  If you are not credible, the other C's don't matter.  Credibility is number one.
What are the best ways to build credibility for your brand?  The most common ways are through thoughtful, research-driven white papers, e-books (like the one you are reading), interviews, case studies, and webinars.
The below Edelman chart highlights the specific people that hold the most credibility when it comes to brand marketing.  Of course, industry experts are first, but a close second is "someone just like you" – a person with your buyer's same pain points and goals.  In short – your current customers.  Customer reviews have become so important because they provide that objective third party validation.  You are not telling your prospects that your products and services are amazing.  It is coming from "someone just like me".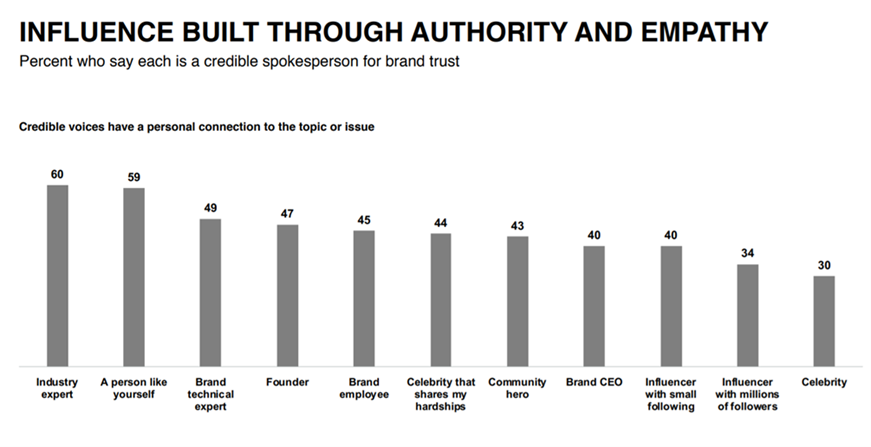 As the chart also illustrates, Founders have more credibility than CEO's.  Why?  They have built their companies from scratch and have the passion that drives connection.  Less credible are CEO's, Influencers with Large Followings, and Celebrities.  If you remember from the Deloitte chart (page 8), Millennial buyers think most companies today are in it purely for the profits.  CEO's, Influencers and Celebrities are perceived as less trustworthy because they will profit from a company's success.
 Candid
Am I being honest and authentic?
This characteristic has become increasingly important in marketing, given the lack of trust and divisiveness in our society.  As we stated earlier, authenticity is also a major reason why live webinars work.  During live events, the audience gets to see you and hear you talk about what you know best – your industry and products and services.  Even more importantly, they get to see you or your executives being real people.
Prospects want to do business with people they like.  Whether a live webinar, a static piece of content, or a sales conversation, ask yourself these questions:
Did I make them laugh?
Did I make them think?
Did I share a personal story?
Did I teach them something new?
Did I use a conversational tone?
Did I admit when I did something wrong?
All these actions build connection and relationships – especially the last one. Human beings make mistakes.  Human beings have technology issues and cats jumping on their laps and jackhammers going off during a Zoom event.  Human beings miss deadlines and make incorrect assumptions.  Be human.  Admit being wrong.  Being candid instills trust.
Caring
Am I showing empathy for my audience?
With everything we have been through in 2020, it is essential for brands to be thoughtful with their marketing communications.  In a world where people are losing jobs and worse, loved ones, we must be more emotionally aware.  We must show more empathy.  What is empathy?  There are many definitions but at its core, empathy is the ability to understand and share the feelings and thoughts of another.  It means trying to understand where another person is coming from.
There are three types of empathy – cognitive, emotional, and compassionate.  Below is a chart we took from a recent Inc. magazine article that defines the three types of empathy.  We have taken it a step further and provided current marketing examples.
| | | |
| --- | --- | --- |
| Three Types of Empathy | Definition | Relevant Marketing Example |
| Cognitive Empathy | Ability to understand how a person feels and what they might be thinking.  It may be influenced by past experiences and unconscious biases, so do not to make assumptions.  Take the time to learn about the other person. | Before launching any major marketing initiative, create or update your Buyer's Persona (or "Ideal Customer Profile").  Document everything you know about your customers' goals, motivations, beliefs, challenges, and hobbies. Importantly, have they changed because of COVID? This step will ensure your marketing messages hit home with your target audience. |
| Emotional Empathy | Ability to share the feelings of another person and build an emotional connection. | Emotional empathy goes beyond the cognitive and forces you to answer the questions:  Why are my customers having these feelings? And how can I make them feel like I understand?  Sharing a personal story is a great way to show emotional empathy.  It can be your own story, your Founder's story, or a customer's story.  The goal is to show that you understand, and you care. |
| Compassionate Empathy | Going beyond understanding and taking action to help. | In marketing today, compassionate empathy has sprung from the most surprising places.  Companies are helping address their community's concerns over COVID-19 and coming up with solutions.  For example, Glossier, a makeup company, planned to launch its new hand cream in April 2020.  Fashionista.com magazine wrote: "Glossier has aimed to be tactful and thoughtful as it brings it (its hand cream) to market amidst the global health crisis surrounding Covid-19… The company committed to donating the first 10,000 units available to healthcare professionals in the U.S. working on the front lines at hospitals, many of whom have been documenting skin irritation from frequent hand washing and long hours spent wearing PPE." |
In addition to helping employees and communities during the pandemic, businesses have been changing their messaging to be more thoughtful and relevant.  Geico – one the biggest advertisers in the world – decided to change its slogan in May 2020.  "Fifteen minutes or more could save you 15% on car insurance" was replaced with "Geico: 75 Years of Real Service and Real Savings".  Geico understands that in a world of fear, anxiety and economic uncertainty, consumers want stability.  They want their insurance company to be there for them – and at a lower price point than competitors.  Geico's new slogan is a great example of empathetic marketing.
Consistent
Am I delivering a consistent message across all channels?
In building a brand, but especially during times of uncertainty, consistency is crucial.  Every interaction that a buyer has with your brand should serve to strengthen trust.  First, develop a brand guide.  Distribute it to internal sales and marketing teams (and anyone else that might touch a buyer or customer), as well as your external agencies.  Brand guidelines ensure that every communication has the same colors, look and feel, logo, tagline, voice, and tone.
In addition to the brand guide, your marketing team should create a content playbook.  The playbook should include the most relevant content to use at each stage of the buyer's journey.  On the following page is WIZ Advisors' Content Marketing Framework to help you in developing your own playbook.  Your Content Playbook – which should exist on a shared drive – will ensure that sales/marketing communications are consistent and coordinated across the buyer's journey (spoiler alert – "coordinated" is our last C).Consistency in internal communications is just as necessary as external communications.  If you have not already, you should start discussing your brand vision, mission, and values often with your employees.  Once you gain their buy-in on your brand positioning, they will become your biggest advocates.  They will share product launches, webinar invitations, blog articles, etc. with their social media followers and spread the word to family, friends, and peers.  They may also leave positive reviews on sites like Glassdoor.  Buyers look at both customer reviews and employee reviews when conducting research, so positive reviews from employees have a direct impact on brand trust.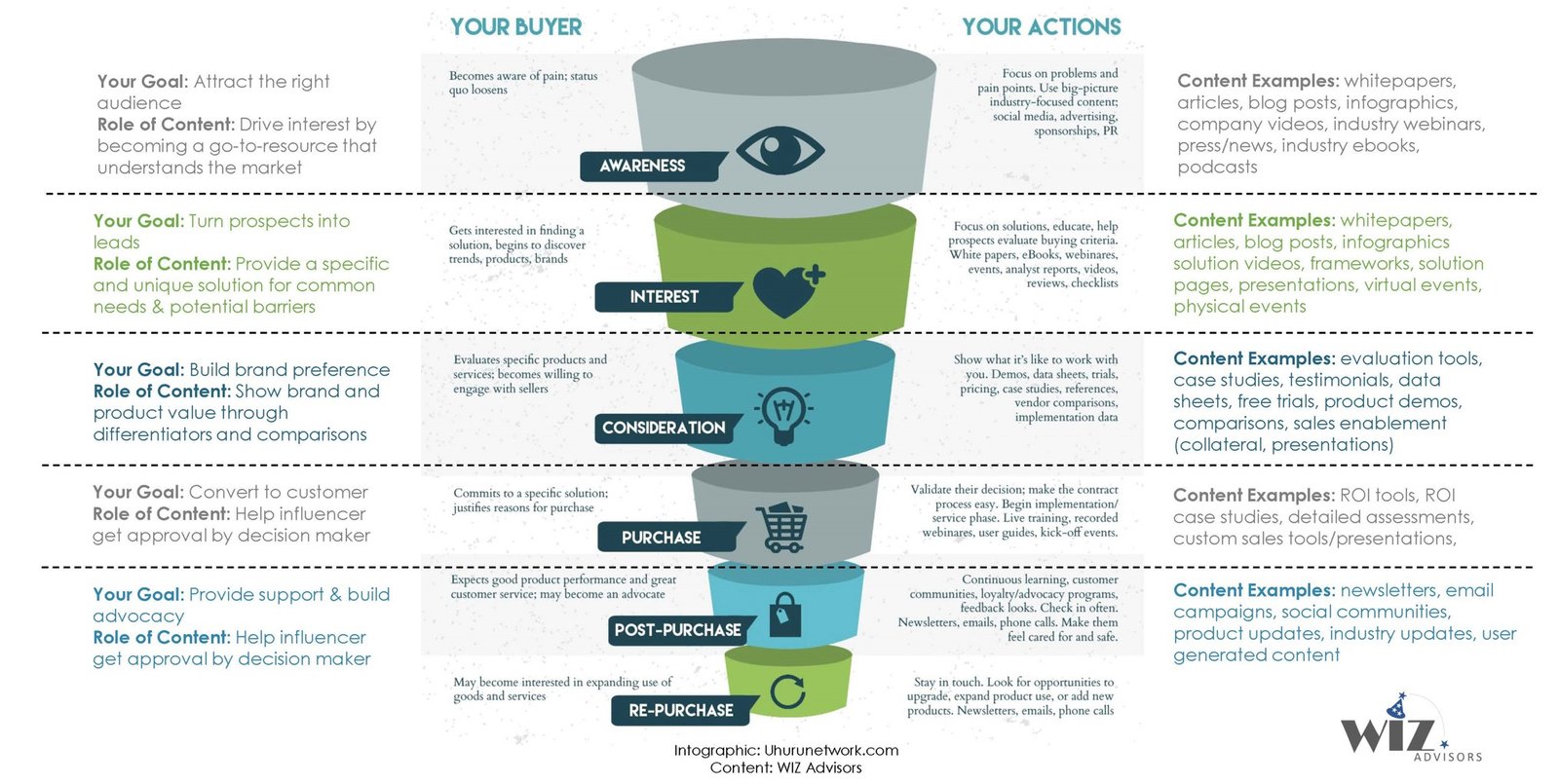 Coordinated
Are your Marketing and Sales activities aligned?
Last, but certainly not least, marketing and sales activities must be part of a seamless, coordinated process.  We live in a buyer-centric world.  They control how they want to be contacted and how/if/when they will respond.  With a coordinated process and armed with information on your prospects, sales and marketing teams can deliver higher win rates, while also building brand trust.
According to Marketo, sales and marketing alignment drives:
38% higher win rates,
36% higher retention rates, and
67% higher lead-to-client conversion rates.
How do you create a coordinated process?  The chart below from Hubspot illustrates how Marketing, Sales and Service teams can work together from the very beginning of the buyer's journey (stranger) to the very end (promoter) to build brand trust.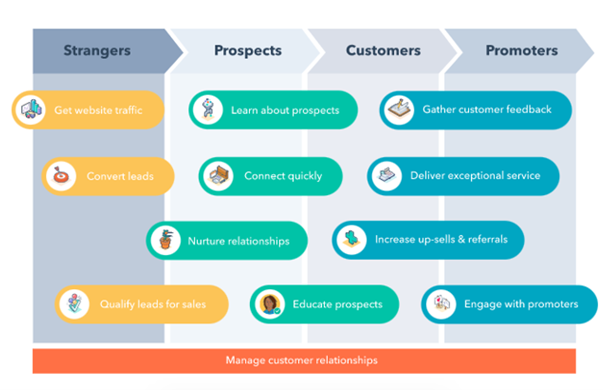 Let's look at an example of a coordinated process, using the Hubspot platform (www.hubspot.com). Suppose you are an SVP of Sales and have an upcoming virtual conference where you and your senior executives will be speaking.  It is one of your biggest lead generators of the year, but you've recently had to move it online given COVID.  Your marketing team has created a landing page on your website to promote it.  They are advertising the conference through email and LinkedIn and have written an e-book describing current challenges in the industry and how your services help solve them.  Visitors to your website can download the e-book in exchange for their contact information, as well as register for the conference.
Your goal is to have your top 20 prospects attend the conference.  You sign into Hubspot and pull up their contact records.  You can see which prospects have opened their marketing emails, gone to the landing page, downloaded the e-book and/or signed up for the conference.  Did they download the e-book but not yet register for the conference?  Did they open the email but not click to visit the landing page?  You send personalized, follow up emails depending on the activities they performed.  The Hubspot app on your phone notifies you when a prospect opens the email you sent so you know if/when they have engaged.  Those are the ones you reach out to with a phone call.  And you do it just after they open your email, knowing that they will be more likely to answer the phone given they just read your note.  Now that is a coordinated process!
Conclusion
You can download and print out the 5 C's graphic here, to use as a checklist for your own sales and marketing efforts.
Do you have an automated platform like Hubspot to coordinate your sales and marketing activities?  You can learn more about WIZ Advisor's Hubspot Services here, as we are a Certified Hubspot Partner Agency.